Custom Built Garages
Godfather garages can handle all of your garage needs. We can repair your existing garage, build you a new detached garage, or build you a new attached garage.
We also can handle all different types of demolition projects. We can demo your existing garage, and haul away the debris. We also can remove your existing garage pad and haul it away.
DEMOLITION:
Includes Concrete Removal & Debris Haul Away.
Typical Garage Demoltion costs $1,300
Typical Garage package includes:
Installation of new concrete pad with 12 inch deep footers with 5/8 rebar. Six inch wide curbs with galvanized anchor bolts. 4 inch thick concrete pad over tamped stone with wire mesh.
All lumber is kiln dried pine and douglas fir and is purchased from local lumber yards.
Framing is all 16 inch on center construction.
Walls are 8 foot tall with 2x4 studs with 7/16 osb plywood sheathing.
Roof construction is 2x6 rafters with 7/16 osb plywood sheathing.
Roofing is 35 year dimensional shingle over 15 lb felt paper
Siding is vinyl double 4.5 to closely match your house
Garage doors are steel raised panel overhead doors
Entry doors are 36 inch wide steel raised panel doors
Gutters are all seamless aluminum
We rough grade the dirt around the garage foundation and any plumbing or electrical trenches
Godfather Garages will take care of all plans, city permits and inspections
Godfather Garages provides all materials and labor
TWO CAR GARAGE ELECTRICAL PACKAGE INCLUDES:
New underground electrical line from house to garage with two circuits according to new code standards
Garage door opener with 2 remotes and wireless keypad
One exterior motion light above garage door
One exterior light next to mandoor
Three interior outlets
Two interior light
Permits and inspections
Typical Two Car Package Starts at $2,200
Garages Starting at:

12 x 20 ~ $13,500
14 x 20 ~ $14,200
16 x 20 ~ $15,500
20 x 20 ~ $17,000
20 x 22 ~ $18,000
20 x 24 ~ $19,000
22 x 22 ~ $20,000
24 x 24 ~ $22,000
20 x 30 ~ $24,000
30 x 20 ~ $26,000

Some cities require 4" PVC from garage to House & Sewer tie-in connections starting at $500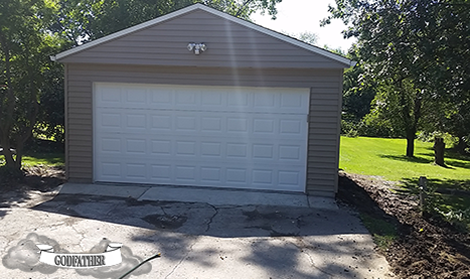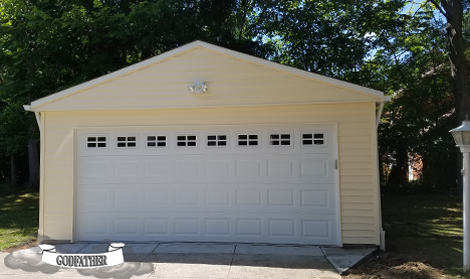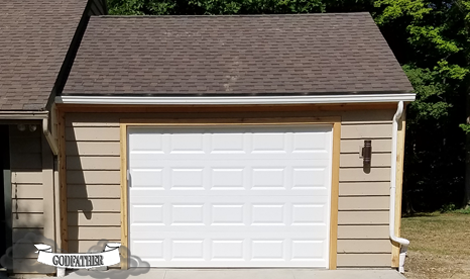 Portfolio
Click on any image to view larger images.